Bermuda Lionfish Map

- lionfish sightings and captures;

- a recent report (7 days or less) of zero lionfish
Report every lionfish you see or catch to the Ocean Support Foundation. This information will be used by the lionfish research team to provide an idea of their island-wide distribution and abundance and help lionfish hunters find their dinner. It is very important that you tell us every time you see lionfish and where.
If you choose to donate a lionfish to be sampled by the scientists, the drop-off locations are:
Bermuda Aquarium, Museum and Zoo
Bermuda Institute of Ocean Sciences (BIOS)
Marine Resources (Coney Island)
Triangle Diving
Dive Bermuda
Blue Water Divers
Become a Lionfish Hunter
Bermuda residents are invited to obtain a special permit to hunt lionfish in situations prohibited under the laws that regulate spearfishing. Specifically, that allows permit holders to hunt lionfish while using SCUBA, within one mile of shore, and on wrecks and other protected sites.
Visitors to the island are invited to take the PADI Lionfish Culling Specialty at any of the local participating dive shops.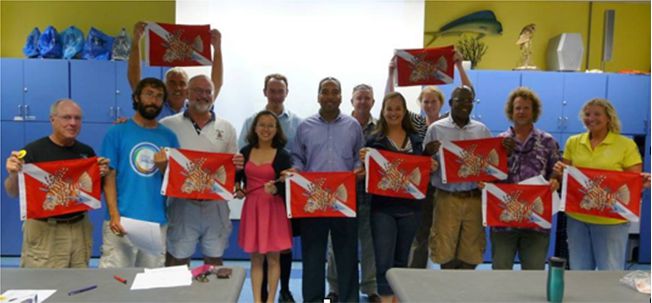 For more information or to find out when the next training course will be held, please visit: www.facebook.com/BermudaLionfishCullingProgram or contact: permits@lionfish.bm